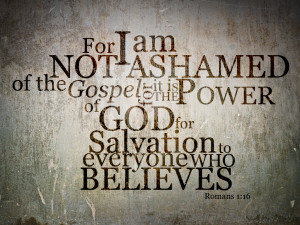 The Good News is more than you think. It's not just about the forgiveness of sins.  It's not just about going to heaven (i.e. the cool place) and avoiding hell (i.e. the hot place). It's about the transformation of all creation someday and the beginning of a better life today. It's the total comprehensive solution to a problem that is bigger than what most of us could understand.
Let me explain.
The apostle Paul wrote the book of Romans to prepare the believers there for his arrival and to also give them a preview of his understanding of the Gospel, which he believes is the power of God for the salvation of everyone who believes (Romans 1:16). He summarizes the Gospel in the beginning of this book. Listen to what he says,
Paul, a servant of Christ Jesus, called to be an apostle and set apart for the gospel of God— 2 the gospel he promised beforehand through his prophets in the Holy Scriptures 3 regarding his Son, who as to his earthly life was a descendant of David, 4 and who through the Spirit of holiness was appointed the Son of God in power by his resurrection from the dead: Jesus Christ our Lord. 5 Through him we received grace and apostleship to call all the Gentiles to the obedience that comes from faith for his name's sake. 6 And you also are among those Gentiles who are called to belong to Jesus Christ. (Romans 1:1-6)
So, first of all, the Gospel is about Jesus Christ. That by itself says a lot. But who He is and what He has done has profound implications for all reality. He has changed everything. Salvation has come and is now available. But what does it mean?
In Romans 1:18-32, the apostle Paul outlines the greatest problem of all — sin and all its penalty, power, and products (effects). In summary, he sandwiches it with two statements:
18 The wrath of God is being revealed from heaven against all the godlessness and wickedness of people, who suppress the truth by their wickedness…
32 Although they know God's righteous decree that those who do such things deserve death, they not only continue to do these very things but also approve of those who practice them.
In other words, we all have a big problem: we are all under and suffering from the penalty, power, and products (effects) of sin (Romans 3:9). Because of sin, we are separated from God and under His wrath. But sin also controls everything and produces all sorts of "deadly" consequences. We just don't die at the end of our lives (which is already a big problem), we die everyday because of sinful choices and actions. The world is a mess because of sin. Relationships are broken and our souls are disintegrated. We are less than human because of sin. Paul describes it differently but the meaning is the same.
"…or all have sinned and fall short of the glory of God." (Romans 3:23)
But under the same breadth, he adds…
"…all are justified freely by his grace through the redemption that came by Christ Jesus." (Romans 3:24)
In other words, a very big problem requires a very big solution. Jesus Christ has to come to earth, die on the cross, rise again from the dead, and return once more, in order to solve man's problem, which is alienation, disintegration, and ultimately destruction caused by sin. Redemption or, in other words, salvation has to be comprehensive enough to solve all our problems.
In chapters four and five, Paul explains what Jesus Christ has done. He has reconciled sinners with God through His death on the cross. As a result, they can now be justified or put right before God. This blessing is by grace. It is not by our own efforts, or, as Paul puts it, by obeying the law. Jesus' reconciles us with God by His death and resurrection, and, as a result, we have peace with God. This is Good News indeed! Reconciliation trumps alienation! But wait, there's more.
In chapters six and seven, Paul explains that the Good News does not end with forgiveness of sins. Jesus Christ did not just offer His life for us, He also shared His life with us.
5 For if we have been united with him in a death like his, we will certainly also be united with him in a resurrection like his. 6 For we know that our old self was crucified with him so that the body ruled by sin might be done away with, that we should no longer be slaves to sin— 7 because anyone who has died has been set free from sin. (Romans 6:5-7)
In other words, the supernatural life of Christ is now in us through His Holy Spirit. We can now become whole again! We can be healed.
21 So I find this law at work: Although I want to do good, evil is right there with me. 22 For in my inner being I delight in God's law; 23 but I see another law at work in me, waging war against the law of my mind and making me a prisoner of the law of sin at work within me. 24 What a wretched man I am! Who will rescue me from this body that is subject to death? 25 Thanks be to God, who delivers me through Jesus Christ our Lord! (Romans 7:21-25)
This is why, in chapter 8, Paul assures us of the blessing of being free from the power and control of sin, in order to live a new kind of life in union with Christ. Our healing begins!
Therefore, there is now no condemnation for those who are in Christ Jesus,2 because through Christ Jesus the law of the Spirit who gives life has set you free from the law of sin and death. 3 For what the law was powerless to do because it was weakened by the flesh, God did by sending his own Son in the likeness of sinful flesh to be a sin offering. And so he condemned sin in the flesh, 4 in order that the righteous requirement of the law might be fully met in us, who do not live according to the flesh but according to the Spirit. (Romans 8:1-4)
The disintegration of our souls, which is the root cause of all our alienation with God and with one another, can now be resolved through the life of Christ in us! But this does not happen automatically, according to Paul.
12 Therefore, brothers and sisters, we have an obligation—but it is not to the flesh, to live according to it. 13 For if you live according to the flesh, you will die; but if by the Spirit you put to death the misdeeds of the body, you will live. (Romans 8:12-13)
So our continuing salvation, which involves the healing of our souls, requires our cooperation. This may be a struggle, but victory is assured as we trust in the Lord. In the end, God will triumph and His purposes will be revealed. Our alienation, disintegration and destruction will be totally reversed in and through Christ, for He will bring about our complete salvation in the end. This salvation, or, as Paul calls it, our redemption, is not just about us but about the whole creation.
18 I consider that our present sufferings are not worth comparing with the glory that will be revealed in us. 19 For the creation waits in eager expectation for the children of God to be revealed. 20 For the creation was subjected to frustration, not by its own choice, but by the will of the one who subjected it, in hope 21 that the creation itself will be liberated from its bondage to decay and brought into the freedom and glory of the children of God. (Romans 8:18-21)
He also adds,
22 We know that the whole creation has been groaning as in the pains of childbirth right up to the present time. 23 Not only so, but we ourselves, who have the firstfruits of the Spirit, groan inwardly as we wait eagerly for our adoption to sonship, the redemption of our bodies. (Romans 8:22-23)
So live with this kind of hope, that through the Gospel, all creation will be transformed and our lives can be better starting today. God will bring reconciliation, healing, and ultimately salvation from all effects of sin — starting with people and then with all creation until a new heavens and a new earth is re-created through Christ. We will be resurrected to live in a new kind of world. Praise be to God! In the mean time we are assured of this promise.
37 No, in all these things we are more than conquerors through him who loved us. 38 For I am convinced that neither death nor life, neither angels nor demons, neither the present nor the future, nor any powers, 39 neither height nor depth, nor anything else in all creation, will be able to separate us from the love of God that is in Christ Jesus our Lord. (Romans 8:37-39)
To God be the glory!